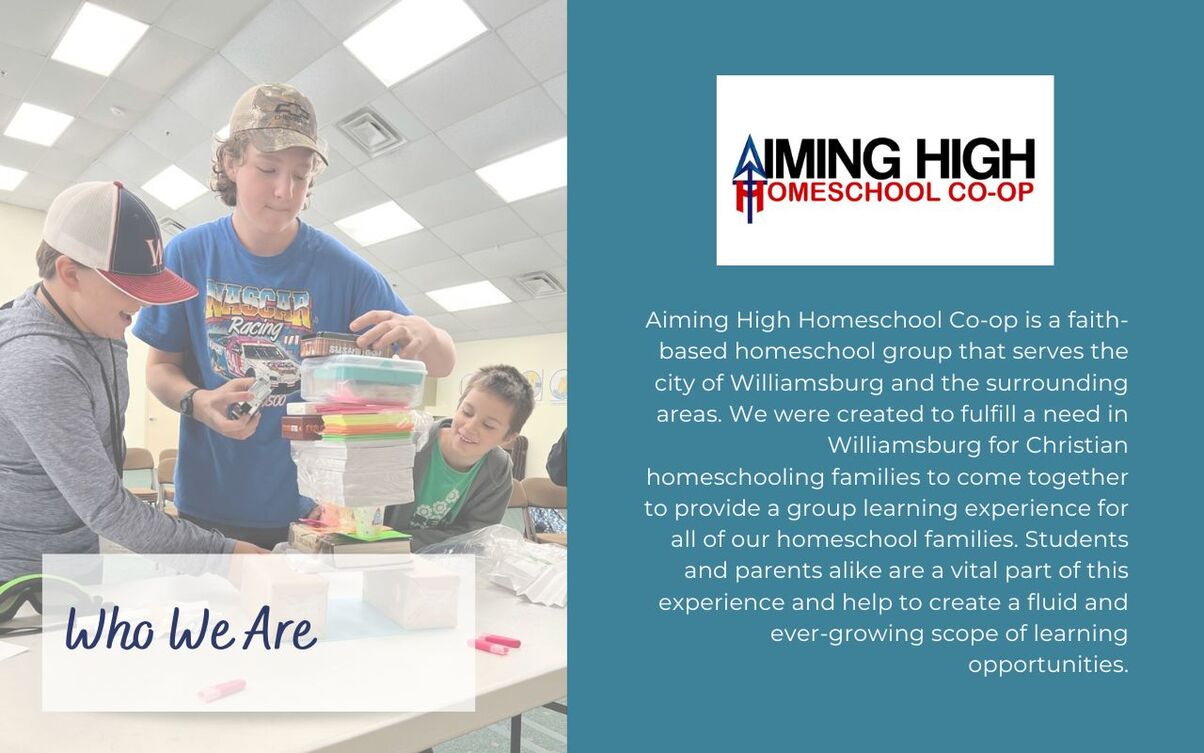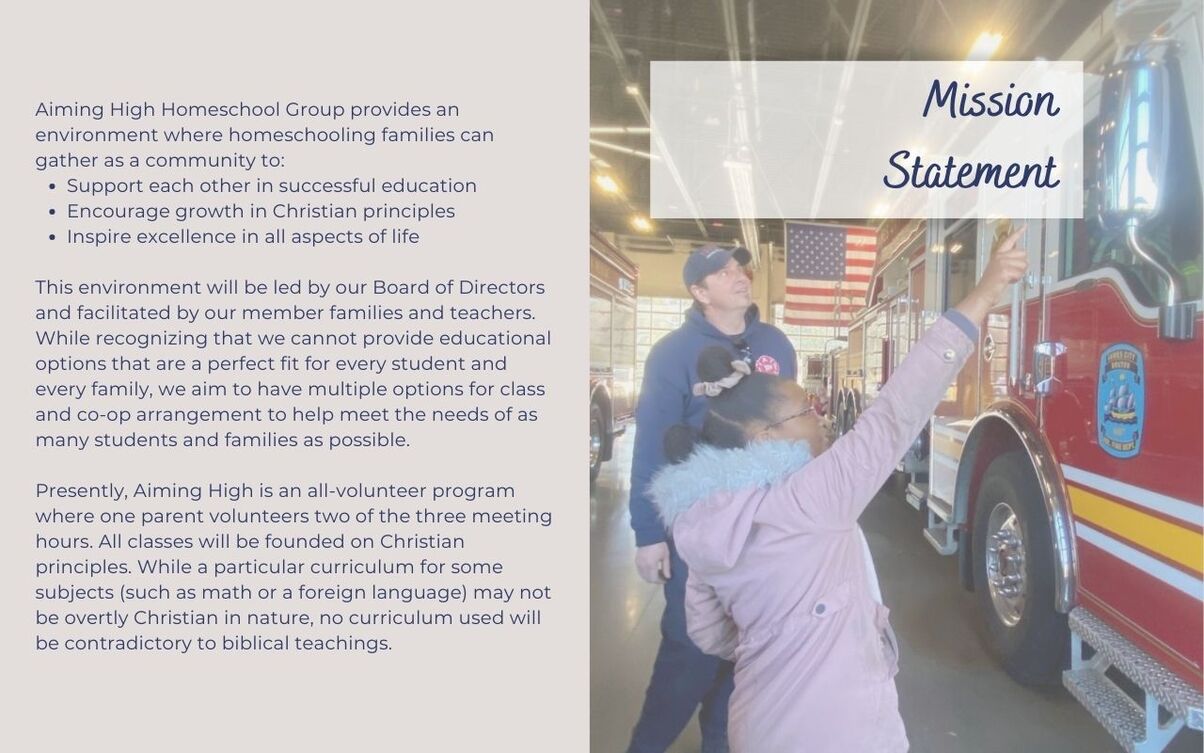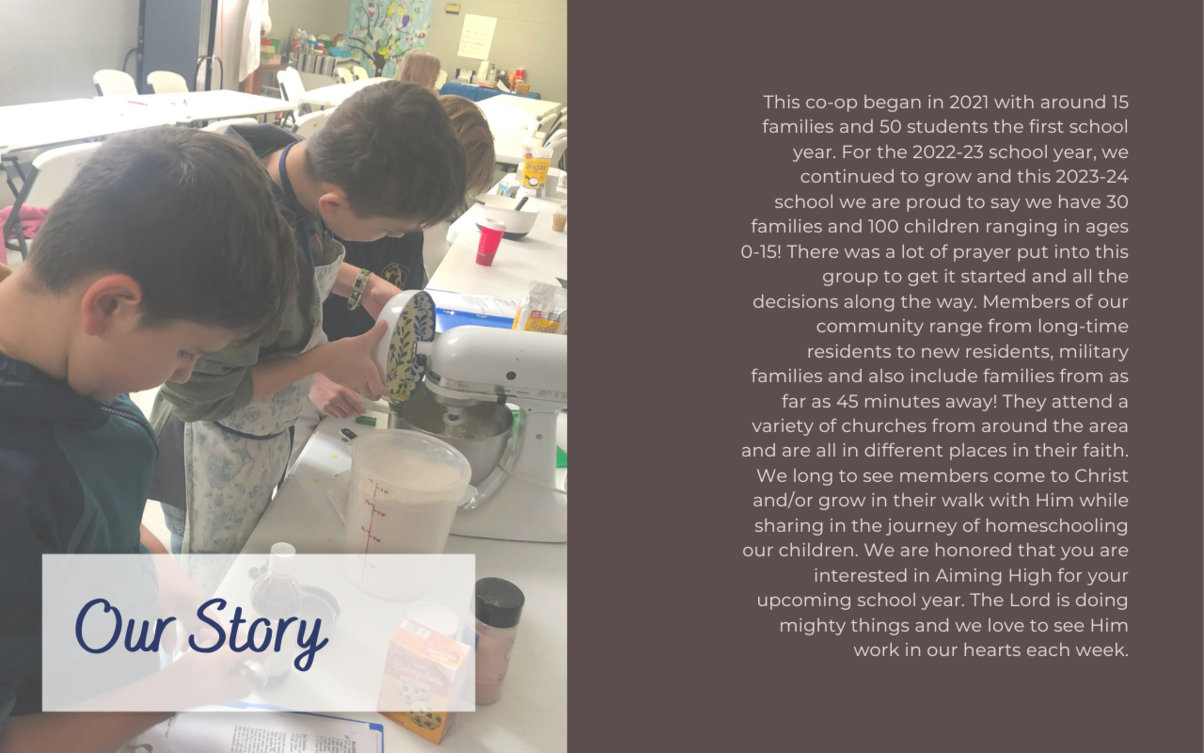 Our Beliefs
Aiming High is a community of Christian homeschooling families. We strive to reinforce biblical beliefs in our students.

In doing so, we believe:
Every person is fearfully and wonderfully made by the One True Lord and Creator.

We are to love our neighbor (any person we come into contact with, either in person, over the phone, or over electronic devices) as we love ourselves, or even better.

We desire to grow and encourage growth in Christian principles such as:

Revering the Bible as God's inerrant Word, which is useful for teaching us what is true, exposing what is false and/or sin, correcting us, and training us in righteousness. (2 Timothy 3:16)

Living generously, cheerfully giving of our time, gifts, energy, and finances as the Lord provides. (2 Corinthians 9:6-7)

Living humbly, not counting ourselves as better than any other person. (Philippians 2:3)

Live a life that shows gratitude to the Lord for His free gift of Salvation and brings glory and honor to His name. (Ephesians 4:1; Matthew 5:16)

We strive to love each other well, despite differences in age, gender, ethnicity, financial status, disability, family makeup, denomination, and/or background. To do this, we endeavor to see each person as God sees them and through His power and grace love one another. Love…

is patient

is kind

does not envy

does not boast

is not arrogant

is not rude

does not insist on its own way

is not irritable

is not resentful

does not rejoice at wrongdoing

rejoices with the truth

Specific doctrinal beliefs are found below. These are considered the elements essential to salvation. Variation in non-essential doctrines are to be received with grace.

God - There is only one true and living God. Goad is eternally existent in three distinct persons: Father, Son, and Holy Spirit. He is the Creator, Preserver, and Ruler of all things.
The Father - He reigns from His throne in heaven over His creation. He is perfect in holiness, love, power, knowledge, and wisdom.
The Son - Jesus Christ is the infinite God-Man. Our Lord Jesus Christ is fully God and fully Man in one Person. He was born of virgin, lived a sinless life, performed miracles, and provided atonement for our sin through His shed blood and death. He was bodily resurrected from the dead, He ascended to the right hand of God the Father, and He will one day personally return in power and glory.

The Holy Spirit - He is the Spirit of God. He convicts man of sin, calls him to salvation, and effects regeneration. He indwells all believers as God's assurance of final redemption. He instructs, comforts, empowers, guides, and develops godliness in believers.

The Scriptures - The Bible is the inspired, infallible, and inerrant Word of God to man. It is our sole authority for faith and practice.
Man - Man was created by God, in the image of God, as an immortal, morally responsible being whose purpose is to serve, worship, and glorify God. Mankind chose rather to serve self-interest and self-worship. The original sin of disobedience by Adam and Eve ushered in death and judgement. "Sin came into the world through one man, and death through sin, and so death spread to all men because all sinned." (Romans 5:12) Since all have sinned, each of us has an individual need for reconciliation to God.
Salvation - Salvation is God's provision for the whole man, provided freely by the substitutionary death of Jesus Christ on the cross. It is received by all who by grace repent of their sin and place their faith in Jesus Christ. It includes justification (we are put in right standing with God), regeneration (we receive new life from God), sanctification (we are set apart for God), and glorification (we will live forever with God).
Sanctification – God, through the Holy Spirit living within us from the moment we repent and believe in Jesus as Lord, works in us to eliminate sin and develop holiness. As a Christ follower, it is my joyful response to salvation to pursue the Lord's will and glory in everything I think, say, and do. On this fallen world, I will never be fully sanctified, but will humbly accept the Lord's correction (which may on occasion come from another person), hold His Word as the standard for my conduct and beliefs, and prayerfully live out the greatest commandments of loving the Lord God with all my heart, mind, body, and spirit and love my neighbor as myself.