New to Homeschooling?
A Note from the Director...
I am passionate about homeschooling (for lots and lots of reasons!). And while there have been many different seasons in our fifteen years of homeschooling, I still think parents know their kids better than anybody else knows them. Who better to prepare them to be adults? God gave ME the responsibility to train up my children. Not the public school system. It is not always easy, but it is a privilege. (And after all, it is fun a lot of the time!!). HAVING SAID THAT, homeschooling might not be the right thing for everybody. That's not my business or right to say someone else should homeschool just because we choose to homeschool. Each family has to determine whether they delegate all the teaching of their children to another entity (such as to a school), or just part of their education (such as online classes), or whether they teach their children at home. At this point in our homeschooling journey, we have done all three!

My first year of homeschooling back in 2007 was a huge learning curve for me. And while I would love to feel like an expert, every year is a new season for us. There are always new changes, new curriculum, new students, sometimes new roadblocks. It never gets boring! And one of the coolest is that I am constantly learning things about my kids, about life, about teaching, and about school stuff in general that I SWEAR I never learned when I was in school!! (I did, I am sure, but I just don't remember!)

There are so many resources about homeschooling available nowadays. It is easy to become overwhelmed really quickly. Sometimes I feel like I want to do everything because I feel like my kids need to know everything and experience every resource I can find. But that's just not true. Kids really just need one-on-one time with Mom and Dad, and homeschooling is perfect because it fills up their love banks with that quality time, gives them a chance to be seen and heard, and allows you to connect to their hearts, all while learning at the same time as a family.

Let's chat about curriculum. There are so many different choices for what to teach our kids. I felt so overwhelmed at first because I didn't know WHAT to buy. And there aren't homeschool stores on every corner where you can pop in, browse, and flip through the books. So...My first year I chose to use a boxed curriculum simply because I was new and had NO IDEA how to teach or what to say or what to teach.

I chose Abeka as I trusted them (I experienced Abeka in a private school one year growing up) and trusted their content as it was Christian based materials.

Using them to start my first year was the best decision I could have made. Abeka made life easy for me because in their curriculum they list everything the parent and student should do every day. Abeka even writes out the dialogue for the teacher in each lesson. (Really, it'll read: Parent ask, "One plus two equals what?").
There is no lesson planning required. Everything is already scripted and planned. When I did school with my oldest in 3rd grade, we sat down on the couch with all our books while my two babies napped. I did NO preparation. And they include the tests, blank progress reports, etc with the books. You can even send in your tests to the company to be graded if needed.

After the first year of using Abeka, I got the hang of homeschooling a little better. I wasn't so overwhelmed, and I got involved in a co-op where I learned a multitide of things every week. We had a curriculum sale at the end of the year and I got to see what other families were using (and selling at really cheap prices!). Of course, nowadays you can find Homeschool Consignment Sales towards the end of the school year every year. And over the years I bought and sold books from http://www.homeschoolclassifieds.com/, especially when I was "homeschooling on a dime".

I usually spend my summers planning (or moving!). I figure out what I want to teach, what I want the kids to learn, then I browse online to figure out what materials are needed to accomplish that, and I pull out the debit card! When my materials arrive I flip through everything and become familiar with any new products. Then I organize them into our schoolroom. In the past I have planned out the whole schoolyear, other times I would plan out 6 weeks or so at a time, and some years I just write down in a journal the work we completed that day. Different seasons! I tend to use many different resources from many different sites.

The biggest change I made (once I got the hang of everything our second year) is that I decided to teach history chronologically from Creation to Modern Times in four years. I hated history in high school and especially in college. The reason is because I had no foundation. My expereince of history was random - Western Civ one semester, American Government the next. Thankfully I found a company called My Father's World that first exposed me to the idea of teaching/learning history chronologically. Then years later Susan Wise Bauer's The Well Trained Mind and Story of the World blew up the homeschool market. Once I started teaching history in time order, and putting the Biblical time line with the regular world's time line (like Abraham saw the Pyramids in Egypt! Who ever knew that?!!), then it fit like a puzzle instead of some random facts thrown here and there. I love history now!

Another word about The Well-Trained Mind by Susan Wise Bauer. If you use the entire program, it's rigorous. We burned out after a few years of SWB, so I had to learn how to relax my style a little more once we brought in more kids and had other health issues to deal with. Hers is the classical method, where there is a lot of reading and analyzing literature, conducting science experiments and writing about it, learning Latin (I have a DVD program through Memoria Press), the chronological history study with lots of corresponding living books each week w/ narration by the child and 6-8 facts summary. Her book is a good resource book that lists every subject a kid needs to learn, K-12, and lists every resource and book to use in each subject area. It is very comprehensive. For example, in language arts she even lists Abeka. So I definitely recommend adding her book to your collection or at least checking it out at the library to see what all resources she lists and why. She goes into great depth about a lot of stuff and what kids need to know at certain ages. In this rotation, kids learn the same thing every 4 years, each time a different level of understanding. The Trivium. Pretty cool stuff.

An example of our curriculum from one year:
MFW for history and science. In History years 3 and 4, MFW incorporates the Wise-Bauer products and use her Story of the World.
Language Arts - the Susan Wise Bauer programs such as Writing with Ease and First Language Lessons
Math - finished the Abeka book in half the year, then moved to Pre-Algebra using Life of Fred and a random Math Skills Pre-Alg book by Richard Fisher.
Literature - 21 books/biographies from the list in WTM (Well Trained Mind)
Mandarin Chinese - Rosetta Stone
Typing - Mavis Beacon Teaches Typing
Latin - Memoria Press
PE - I have products from Spark PE and School Specialty. And we've done swimming lessons, horse back riding, dance classes, etc.
Bible - currently reading through the New Testament about the life of Jesus while the kids color the corresponding picture in this book. Also reading through this book while the kids eat breakfast.

My kids are such different age ranges that unit studies aren't so beneficial for us right now. Though when we find a particular topic we love, we do a unit study. For example, we have some nature studies (on rain, etc.) and have studied some history things in depth together.

The way we do history incorporates my Littles and my older child all together. I'm teaching the same thing to all the kids, not two separate topics. I read the history passage outloud, and the Littles narrate back to me (I write it down and put it in their History notebook) and my older child does her own narrating and writing the 6-8 facts in her History notebook. The Wise-Bauer group has an Activity book to go along with their Story of the Worlds. These are great fun!

The biggest suggestion I would have in general is to find a good co-op of other homeschoolers. It will be of great support for you - and a place where your children can do things that are a little harder for you to do at home, such as drama or choir or debate. It was a real challenge for me after some of our moves to not have a support group or any other homeschoolers that my kids could interact with.

Other specific info:

Buying books:
Buying homeschool materials for the first time is tricky because there aren't a lot of physical stores to go and browse through the materials. Find a homeschool convention to attend. They will have an exhibit hall filled with vendors where you can actually flip through the books. There is usually a used book sale at the convention as well.
Fortunately now everything is online and some sites will allow you to flip through the material online. Esp at Christianbook.com and Rainbow Resource. Usually the table of contents and the first few pages of any book is available for view.

*Amazon is great of course. I love looking up books on their site, especially when there are reviews about the book.
*Thrift books is where I snag a used book that I don't want to pay full price for on Amazon!
*Rainbow Resource (rainbowresource.com) is also really great. They have a huge (free) catalog in which they give a written review of each book. So even if I cannot flip through the book personally, I can read their review of what the product contains. I trust them because it is a Christian company and they personally review each item before they put it in their catalog.
*Critical Thinking Company - logic materials for all ages
*My Father's World (like I've mentioned) - complete curriculum for history, science, and bible. Teaches history in chronological order from creation to modern day in four years.
*I've also bought (and sold) books off half.com and homeschoolclassifieds.com

Homeschool Styles:
This year I read a few books to help me figure out how I want to teach.
The Well-Trained Mind, Educating the Whole Hearted Child, The Charlotte Mason Companion, What Every 1st (and etc) Grader Needs to Know, any of the Ruth Beechick books (like You Can Teach Your Child Successfully), Unit Studies, are a few.

There are many different types of homeschool styles. Some people prefer to completely replicate the classroom in their home, and some families are unschoolers and do not use any testing or textbooks.
There is no right or wrong way. God made every family different. What works for one family will not work for another family. And that's the beauty of homeschooling: I can tweak any resource to fit our schedule, fit our family, fit our learning styles, and fit our homeschooling style. I love it!

Learning Styles:
During the first year I learned that my daughter has a specific learning style. Every kid does. And ironically it is completely opposite of mine. How did I know? Because what we were doing was NOT working for her in her hardest subject: math. We hit a wall. The flashcards didn't work for her because she is an auditory learner, not a visual learner like me. So we adjusted.
Again, another major advantage of hs'ing: I can teach one-on-one to my kids' learning style, as opposed to my kid sitting in a classroom with many other students having to learn from whatever way the teacher decides to teach.
And we learn all day long in the home. I bought the different colored kid cups, plates, and forks at Ikea, so every meal time is review time of our colors. "Are these colors all the same or different?", etc.
We read all the time. And sing and talk about everything "I put a pillowcase on by holding it like this."
Fun fun all day, and we're learning the whole time!

Legal Requirements:
The only 2 requirements I have (in Virginia) is to notify our school superintendent that I plan to homeschool (by Aug 1) and test my child each year and send the results to the superintendant (by Aug 15). I am not sure what other state laws are, but HSLDA has a list of all the states and their laws. Speaking of them, HSLDA is great. There are many resources on their site as well. They are the Legal arm that protects homeschoolers in the event something goes wrong (like the school tries to visit you and tell you what to do!).

Other Resources:
Homeschool.com has a lot of information, esp for new families. They have some great podcasts, which I like to listen to esp in the summers.
Clickschooling.com sends me an email each day with a new resource each day based on subject area (Monday is Math, Tuesday is Science, etc.).
Other homeschooling blogs - is where I get a lot of info from.
Ramblings of a Crazy Woman and Familyfun.go.com is where I get all my craft ideas.
I LOVE 1+1+1=1 and Confessions of a Homeschooler and I copy a lot of the stuff they do!
Simplyfun.com
Fatbraintoys.com
Visionforum.com
Christian Light Publishing
Christianbook.com
Beautiful Feet Books
Sonlight Curriculum is very popular with people. Lots and lots of reading books.
Facebook groups - Though I am non-existent on my personal page, I am still in a few homeschool groups which is great to post questions or events.
School Specialty - I can find art supplies and PE equipment and furniture (corkboard, whiteboard, small desk, chair).
Learning Resources - really good customer service and great quality materials.

Homeschool Co-ops:
Homeschoolers need encouragement and support!! This is a big job, and there is no paycheck to validate your hard work. In fact, you'll probably clean the same mess in the living room 5 times before your husband gets home from work every day, and he'll have no idea how much you've been doing all day. (Which is fine: Jesus Christ is my Validator, meets all my needs, and sees and smiles with every Cheerio I pick up off the floor!) And Daddy has a big job, too: he is the sole provider for the entire family. His hard work enables us to stay home with our precious ones and train them up in the Lord. But Moms need a support group and other homeschooling friends to keep us going each week.
I loved my co-op in Northern Virginia. There were classes for all my kids, even nursery for the baby. My older kids have taken classes like Drama, Art, P.E., even Mandarin Chinese one year, which were all things that were hard for me to do at home. We had monthly field trips, yearly school pictures, and even a yearbook! These are all the things I am trying to bring down here to Aiming High, with the Lord's help!

The main thing with Homeschooling is to relax and don't get stressed! Take one day at a time. Homeschooling is a journey, a privilege, and a real joy.
Many Blessings to you on your journey! - Jessica P.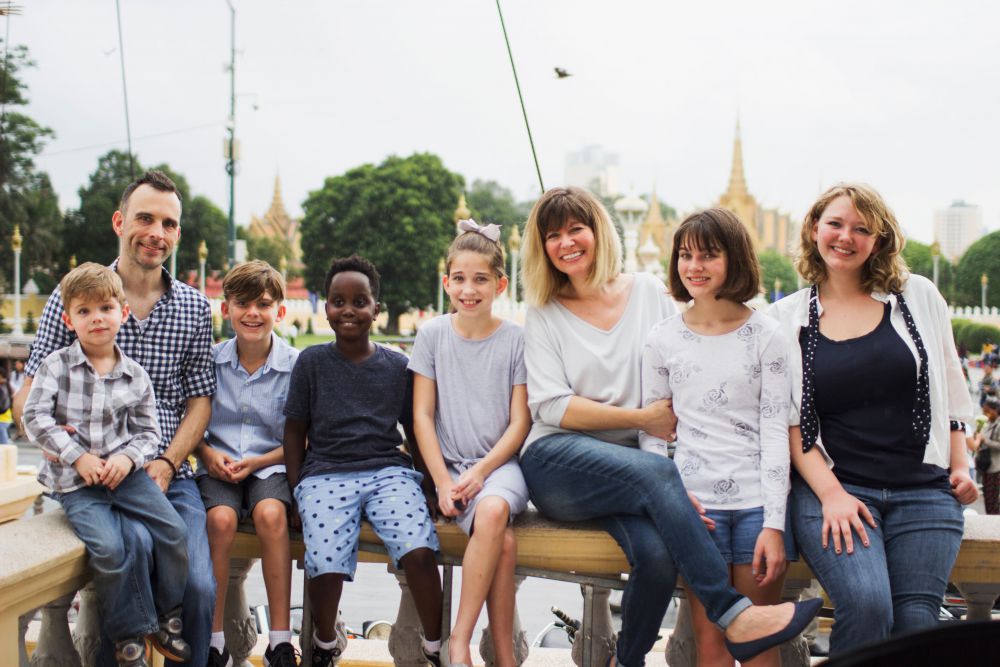 ---
(Pictured here with my family. I am the adult in the middle with clenched teeth screeching, "This is our last photo! Sit still for two more seconds guys!")
Copyright 2023 by Aiming High Homeschool Group